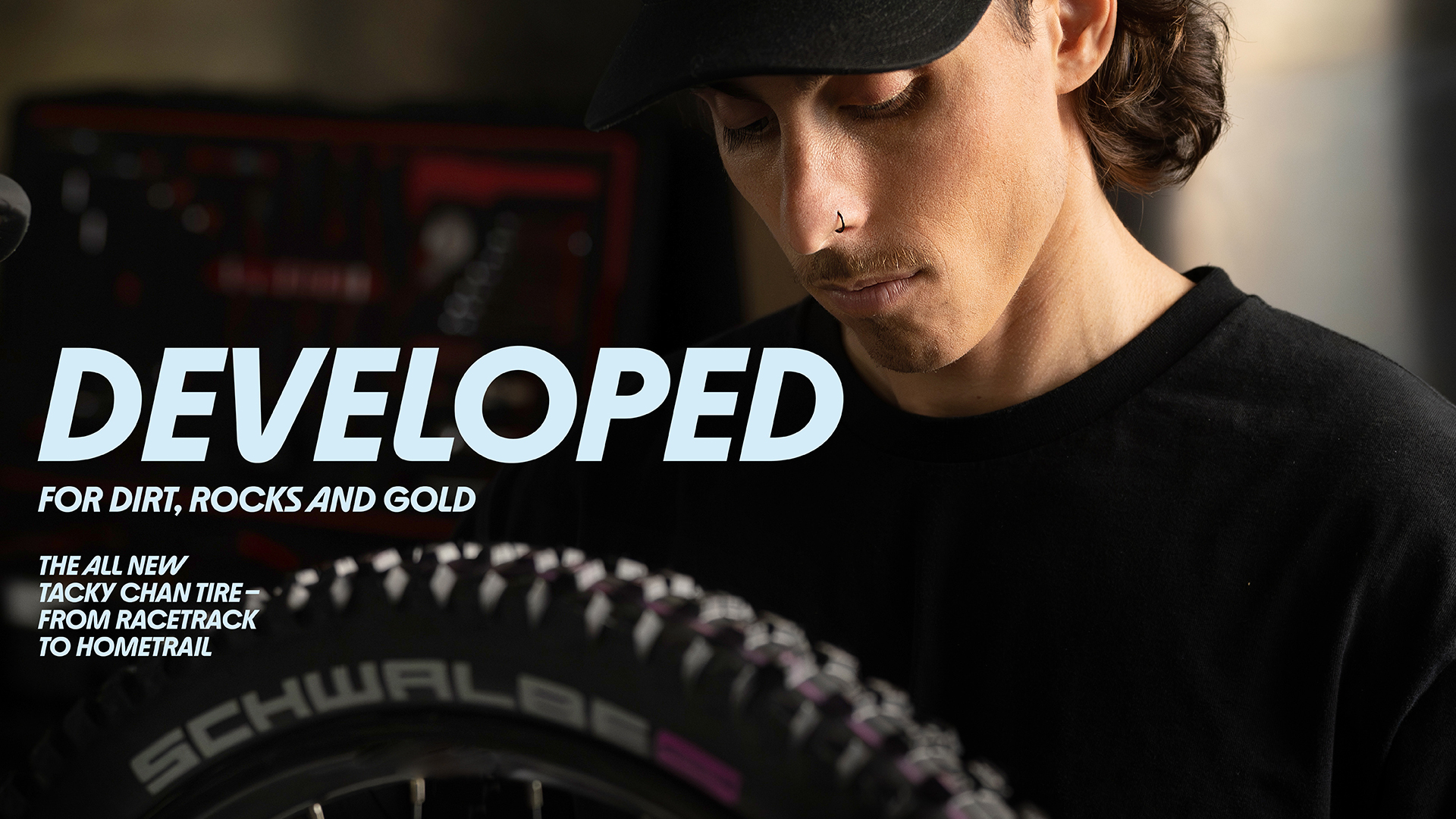 THE FASTEST DH-TIRE ON EARTH
Don't push your limits, dare to go over them. With a tire that is just as uncompromising as you are. The new Tacky Chan was developed by those who give the best. For those who want the best. Whatever your goal, don't just pursue it, chase it.
Schwalbe. Get There.
FROM RACETRACK TO HOMETRAIL



The development process of the Tacky Chan began in close collaboration with the COMMENCAL / MUC-OFF team, who had a vision to create an even better performing tire. To realize this vision, they started by modifying the existing Big Betty tread by hand. With this "Frankenstein" prototype, Amaury Pierron and Thibaut Daprela competed in the 2021 World Cup race in Leogang and both ended up on the podium. This result confirmed their decision to stick with the idea.
Team members and engineers at Schwalbe worked hard to adapt the tire's profile to the specific requirements of downhill racing. They experimented with different cuts and patterns to ensure the best possible traction, control and speed on different surfaces. The race team riders, led by Amaury Pierronand und Myriam Nicole put the modified tire through its paces on various tracks to optimize its performance. The team and Schwalbe created a total of 12 "Big Betty cuts", and sure enough, the Tacky Chan achieved faster speeds while still maintaining higher braking traction.
With each successive race, the improvements to the tire became more apparent. COMMENCAL / MUC-OFF began to collect medals and the new tire became the preferred choice of the riders. The tire ended up contributing to the team winning 24 medals in 2 seasons, a total of 17 World Cup races, and even the Overall World Cup victory in 2022 by Amaury.
The success of the new tire was the result of a close, honest and exciting collaboration between the riders and the developers at Schwalbe. The development process of the Tacky Chan tire was a journey full of challenges, setbacks and many successes. The initial idea resulted in probably the fastest downhill tire in recent years. Schwalbe. Get There.
AMAURY
I was very fast last season. And I'll be as fast as possible on my bike in the future. To do that, I need a tire that transmits my riding style to the ground more precisely than ever before. Here it is - the new Tacky Chan.
MYRIAM

The precision of the tire is something completely new. We are now using the Tacky Chan for the 3rd World Cup season and have won quite a few medals and an Over All victory with it. I think it is one of the fastest tires ever!
MAXIME

We asked Schwalbe if we could tweak the Big Betty tread a bit because we wanted to know if it was possible to go even sharper. They agreed and so began the joint development process with a result that is second to none.